What is Splattershmup?
Splattershmup is a game that explores the intersection of the classic shoot-em-up (or "shmup") arcade game and gesturalized abstraction or "action painting" (a term coined by critic Harold Rosenburg in 1952 and often used to describe the work of American artist Jackson Pollock). It is intended to allow the player to reflect on their in-game actions and strategy through visual record, and to approach the creation of art as an arena of action. Art can thus be created, shared and discussed that comes "from inside the moment" of game-based decision.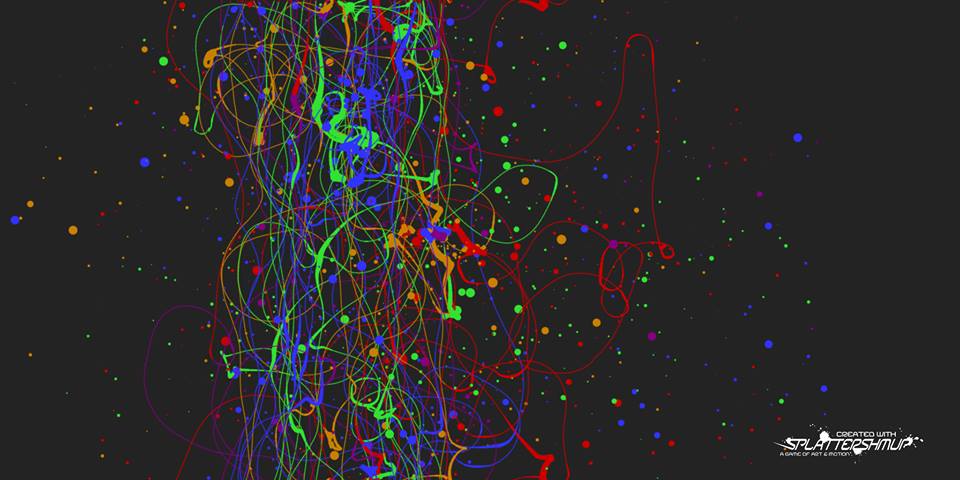 How Can I Play It?
Splattershmup is currently in OPEN BETA, and is freely available to anyone who wants to play. (Just to be clear, the final release will also be free.) You can play it online in a browser, or via a downloaded executable.

We are continuing to make improvements and fixes, and have some additional features planned that are pretty great. Your feedback is very important to us, and you can contact us at the RIT MAGIC Center, or through the MAGIC Facebook Page. As with any beta, there are some caveats:
Game controllers are supported in Chrome, but not IE. (This support is coming in IE 12). All packaged executables support game controllers.
We currently support the official XBOX 360 game controller. Support for other controllers is planned, and may 'just work', but your milage may vary.
Performance in Firefox is poor. This seems to be related to an underlying issue of 'canvas-to-texture' in the Firefox WebGL implementation. We are investigating.
Performance on some laptops that 'autoswitch' between dedicated and integrated graphics (such as modern Macs) is poor, we are investigating.
In desktop builds, use 'F' to go to fullscreen (currently works but is undocumented)
Who Made Splattershmup? When? Where?
Splattershmup was produced in residence at the Rochester Institute of Technology in a studio course offered through the School of Interactive Games and Media, with guidance and support from the RIT Center for Media, Arts, Games, Interaction & Creativity (MAGIC). It is published and maintained through MAGIC Spell Studios, LLC.

The original concept of Splattershmup was created by Professor Andrew Phelps, Director of the RIT MAGIC Center in the summer of 2014. He started talking about these ideas with Chris Cascioli, a lecturer in the RIT School of Interactive Games & Media, and then offered an IGM production studio course in the fall of 2014 to help build the game (and learn about game production), with collaboration and support from MAGIC Spell Studios. As a part of the course, Professor Phelps recruited Aaron Cloutier to act as an outside process advisor and engineering specialist. (Andy and Aaron have had a history of prior collaboration on games and software projects.) Jennifer Hinton from the MAGIC Center also contributed to the course.

Following the course, MAGIC Spell Studios took it upon itself to leverge the prototype developed in an academic setting to a more comercially viable product: currently that work has produced the beta version available today. The preproduction, course, and subsequent development were all supported by the MAGIC Center, located in RIT Student Innovation Hall.